How would you like to say goodbye to writer's block?
If your answer is yes, you've come to the right place...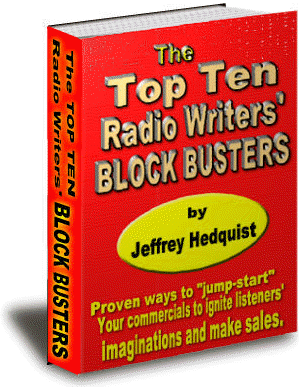 Writer's block. We've all had it.

What you do next can make the difference between time-wasting frustration and victory over the forces of inertia.

Every minute you struggle is a minute you could be selling, or even…relaxing! It's all about saving time - your most precious resource.

When we at Hedquist Productions hit the wall (and we do), these are the top ten techniques we use to bust through.

In this e-Book, you'll learn:
Tips from the world of improv to turbo charge your brainstorming process. Page 4


How a search engine can help you break writers' block. Page 7


A surefire way to pull the most powerful benefits out of a sea of features. Read Chapter 4 for one of my favorite copywriting techniques.


Something as close to plug & play as you can get. Fill in the blanks and you'll have all the elements of an effective story-type commercial. You'll see how I used this to create one of our most successful campaigns. Pages 11-16


The writing exercise that gets easier (because you get better) each time you use it. Starts on page 17


How to get more by writing less. Page 20


How blowing something up can make it stick. Chapter 8


How an old Saturday Night Live sketch can give you the key for a powerful campaign. Learn how on page 26.


The most direct path to the emotions - and to the copy for your next commercial. It begins on page 27.


That often the surest way out is to go in. Chapter 11 suggests ways.
Some decisions in life are difficult. Some are easy. Your next decision is easy. Here's why:
The techniques in Top Ten Radio Writers Block Busters work.
They're proven.
They're quick.
This e-Book is inexpensive. Only $19.95
It's guaranteed. Absolutely. Money back if you're not satisfied.
Click here to order

Please, don't waste another minute banging your head against your computer screen. You can't afford NOT to get this e-Book.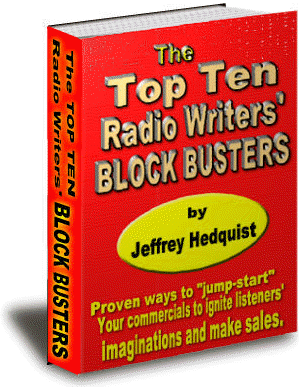 If you're fed up with the frustration, the anxiety and the constant painful itching...

If you've decided to end radio writer's block forever, congratulations!

Click here to order

Ten powerful techniques, only $1.99 each.

What if only one technique worked for you? Would that be worth $19.95 - to save you time and give you a happy client who renews again and again?

What if you found more than one technique that worked?

Your next deadline is looming right now. You could have the Top Ten Radio Writers' Block Busters working for you immediately.
Go ahead, order the e-Book, try out the techniques and see if they work for you. I'll take all the risk.
If you're not delighted with the results, I'll refund every penny and you can keep the download. No time limit. No hassles.

Click here to order

No more writers' block

When your mind is blank, these ten can help you "jump-start" your way to creating spots that touch listeners' imaginations and make sales.

"If you're looking for consistently creative and inventive ways of writing radio commercials, there is no comparison to Jeffrey Hedquist. Using humor, theatrical staging, drama, contrasts, sound and silence, Jeffrey has the ability to rivet listeners to messages and compel them to act. His work defines the term "competitive advantage."
- Jeff Green, former editor, Radio & Records

Click here to order

I look forward to hearing about your successes using the powerful techniques in the Top Ten Radio Writers' Block Busters.




Jeffrey Hedquist
President
Hedquist Productions, Inc.
P.O. Box 1475, Fairfield, IA 52556 641-472-6708 jeffrey@hedquist.com
For a FREE newsletter with tips, techniques & secrets go to www.hedquist.com